Description
ABOUT THE AQUA BATH SCRUBBER...
✔Boost Your Skins Health
Get rid of that terrible dry flaking skin, gently exfoliates and removes, bringing out your skin's natural glow.

✔Built To Last Material
Made From Certified Food Grade Silicone. Pull it, twist it. They are designed to last you a lifetime.
✔Ironclad Control
It makes sense to design a product that exfoliates and cleans hard to reach skin on your back. It makes even more sense to add two handles on the end to give you pinpoint accuracy.

✔Versatile Scrubber
One-side has soft bristles, the other firm beads, both giving you an exhilarating sensation. Not only does it work scrubbing your back, but it also works perfectly for the soles of your feet.

Loofah sponges, by nature, has a lot of nooks and crannies that can be a breeding ground for bacteria—made with silicone, the Aqua Back Scrubber is low maintenance, it dries faster, and is easier to clean.

Are you straining to hit that one spot on your back? Extended your reach like "Inspector Gadget" with The Aqua Back Scrubber. Washcloths are too short to give you that full-body clean. Scrub every spot on your back and leave the shower feeling clean and assured that you had a full-body wash.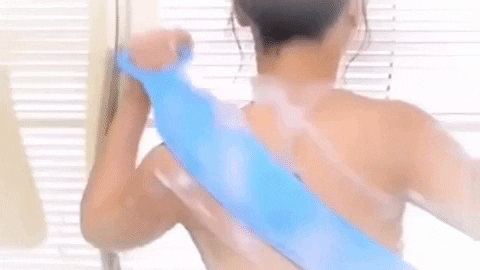 Getting a full-body clean in the shower is one of the best ways to keep your skin soft, supple, and fresh. Our silicone scrubber is a great option for anyone who struggles to reach hard-to-scrub spots on their body. Whether it's a spot right between your shoulders or in the small of your back, this convenient and easy to use silicone bath towel is sure to hit the spot.

 
 
The small silicone bumps and bristles provide stimulation to your skin, encouraging healthy skin growth and helping soothe achy muscles.
It features two Easy-Grip Handles for a precision clean every time. 

The silicone back scrubber suits all skin types from dry, oily to combination skin as well.
This item is a great gift for anyone in your life who loves a good bath or shower and is a really awesome gift to give to yourself. It'll be love from first scrub!
 Money-back Guarantee.
Try it for 30 days if you are not satisfied return it no questions asked.

ORDER 2 OR MORE TODAY! 

To take advantage of the 25% Savings. Limited time offer.
Length & Weight
Weight: 14oz
Material: Silicone 
Applicable: Universal
Size: 60 * 11CM